Cock Rings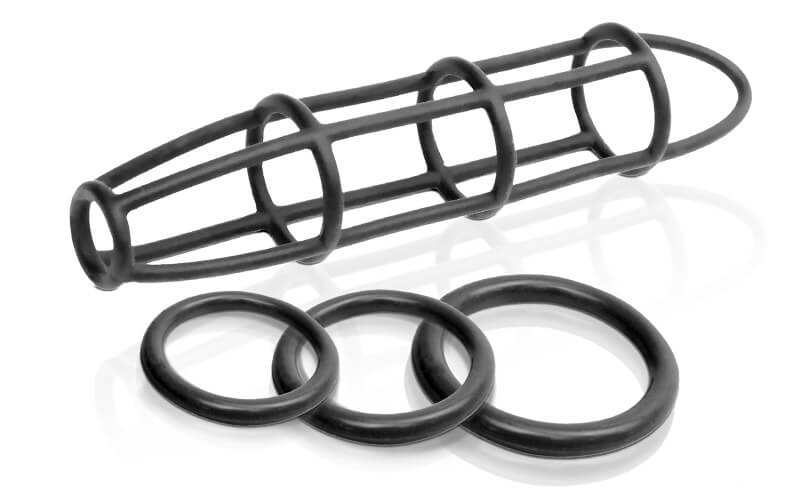 Sex Toys For Men
Everyone knows that sex toys will improve your sex life with yourself and/or with your partner and The Naughty Store knows that men deserve their share of fun too. Our wide selection of products for men will blow your…mind.
Last Longer and Orgasm Harder
The Naughty Store knows what men want, and cock rings are the best way to help them get it. There is such a wide variety of cock rings available that we encourage you to come in and look at them in person. Seeing the difference between the Jimmy Jane Iconic Ring and the Lelo Tor 2 in person will definitely help you make your choice. If you're going for something simple, tried, and true you can check out the Doc Johnson silicone cock ring 3 sets (or their immensely popular Wonderland C Ring the Kinky Kat). Our store staff will definitely weigh in with their opinions on favorites, especially as many cock rings are also designed for double duty, pleasuring your lover as they make sex for you even more rocking extreme.
Get Help Finding the Right Cock Ring for You
When you find the right cock ring for your girth you'll know why this popular men's sex accessory has been around since Roman Times. Once you're hard or semi hard, slide it down your shaft and it will slow the flow of blood, leaving you with a "super erection" and the best orgasms you have ever experienced. Cock rings can be worn around your shaft and there are some designed to go around your balls as well. Some of our best selling newer toys include cock rings that also have silicone cock cages (or cock sleeves) and plenty more new, inventive, and textured ways to make your lover submit to whatever you decide to dish out.
Cock rings come in a wide variety of materials. Leather is popular, as are neoprene or silicone cock rings (great for the vegan man). They also come in a wide variety of metals and other materials. As New Jersey's cock ring experts we also carry closed rings, snappable rings, (like Doc Johnson's 3 snap, 5 speed leather cock ring), Velcro-closure rings, vibrating rings, rings with attachments, and more. Looking for an adult boutique near you? Our location right on Route 22 (middle of the island) makes Naughty a convenient stop for couples from all of Somerset County including: Edison, Bridgewater, Piscataway, Bound Brook and Green Brook New Jersey. Be sure to stop in and see what's new. Dial (908) 258-8260 today!