Strap-Ons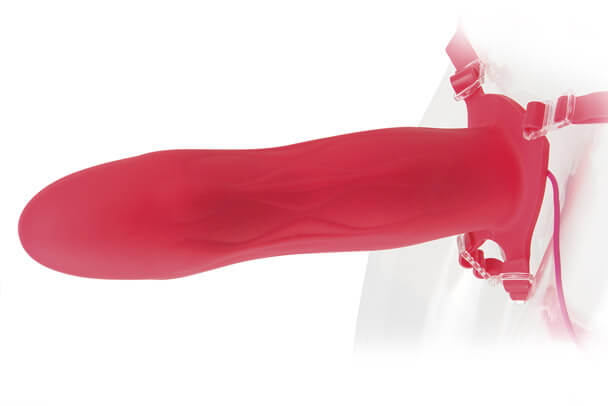 Strap It On New Jersey
Strap on dildos let you take your fun to new heights with role reversals, gender play, or just doubling up on the fun. Harnesses for dildos are made a variety of ways with different styles in how the dildo attaches to the harness, and where it is placed, and what style or look the wearer is trying to achieve. At Naughty we stock a wide variety of harnesses for strap on dildos. A good harness (i.e. the Doc Johnson Vac U Lock Harness) should feel sturdy and should also be designed to pleasure the wearer as well as the person they are using it with.
We carry both two-strap and three strap harnesses. Two strap harnesses are quite popular, but three straps makes for a sturdy base and increased options. Double penetration straps will double your pleasure, and thigh harnesses, chin harnesses, heel harnesses can increase the number of sexual positions at your disposal to infinity.Don't like straps? There are also underwear harnesses. Strap ons can also go "both ways" as with the very popular Fantasy Elite Double Delight Strap On.
Pegging Plus: Harnesses with Vibrators
The bedrooms of Northern New Jersey are surely steaming up as fun and adventurous couples discover the pleasures that come from harnessing up and adding more cock to their sex life. Make sure to ask our staff about all of the fun add-ons that can further arouse the strap on wearer. We can recommend harnesses that have raised bumps or places to mount vibrators and stimulate your clitoris while you peg your partner. There are also harnesses that let you use double-ended dildos for simultaneous penetration. Curious? Our discount coupon on all sex toys with any purchase of $25 makes it easy to try a few and experiment.
Looking for more than an adult novelty store near you? Stock up on toys and accessories here (we'll show you everything you need to get started), and then send your lover a picture while they're at work. We guarantee those late nights at the office will come to a crashing halt. New Jersey couples know that the best of the adult stores in the Tri State area is the Naughty Store on Route 22. We're here to help make all of your fantasies come true. Our location right on Route 22 (middle of the island) makes Naughty a convenient stop for couples from Perth Amboy, Metuchen, Carteret, and Elizabeth New Jersey. Be sure to stop in and see what's new. Dial (908) 258-8260 today!